Milwaukee 9572 2 Ton Electric Chain Hoist - 15 ft.
SKU: milwaukee-9572 Model: 9572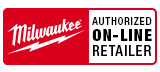 All Milwaukee Professional Electric Chain Hoists offer an array of load lift and height options. With 1/2 to 2 Ton capacities and 10 ft. to 20 ft. lifting heights, you can order a Milwaukee Electric Chain Hoist to meet your roughest needs. All offer a multi-disc magnetic brake for positive load holding and spotting. Adjustable upper and lower limit switches, overload limiting clutch and latch-type ridged top hook. You can get single or three-phase voltage motors to meet your operation power requirements. The 24-volt pushbutton station fits easily in your hand to allow thumb, trigger or two-handed operation
Availability:
Only 4 left in stock!
Availability:
Only 4 left in stock!
All Milwaukee Professional Electric Chain Hoists offer an array of load lift and height options. With 1/2 to 2 Ton capacities and 10 ft. to 20 ft. lifting heights, you can order a Milwaukee Electric Chain Hoist to meet your roughest needs. All offer a multi-disc magnetic brake for positive load holding and spotting. Adjustable upper and lower limit switches, overload limiting clutch and latch-type ridged top hook. You can get single or three-phase voltage motors to meet your operation power requirements. The 24-volt pushbutton station fits easily in your hand to allow thumb, trigger or two-handed operation